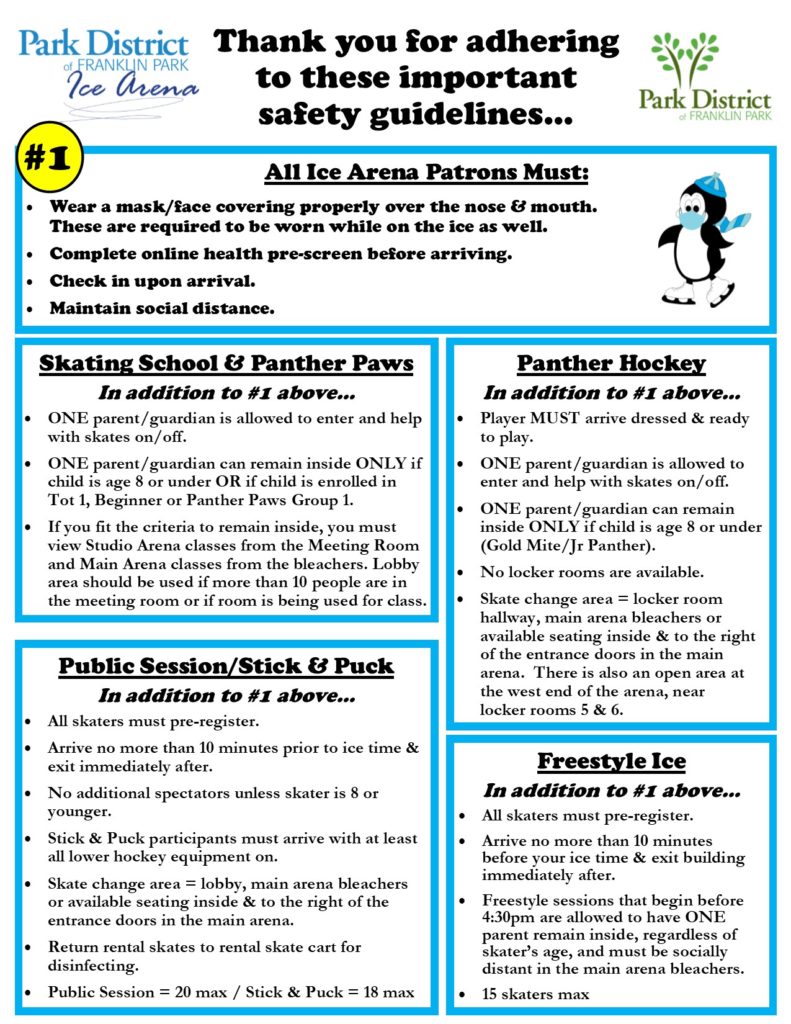 Ice hockey is currently labeled as a "Level 1 Risk Activity" by the state of Illinois. Renters should be in compliance with the Illinois All Sports Policy.
Face coverings are to be worn by all patrons in common areas of the building, over the age of 2 and medically able to. Skaters must wear masks once they are on the ice surface.
All skaters will conduct a "Self-Screening" prior to entering the facility. If you have symptoms or know you have been exposed to a positive case, PLEASE STAY HOME.
All skaters are to enter the facility dressed and ready to skate. Arriving 10 minutes prior to ice time. No Locker rooms will be available. For skates on and skates off for Main Arena users the locker room hallway, bleacher seating, and the area by locker room #5 & #6 are available. The meeting room will be used for skates on for Studio users and the designated lobby area will be used for skates off.
Locker room showers will not be available. Stretching/warming up must take place outside the building.
Only parent or guardians designated to assist with skates on and skates off will be allowed entry into the facility. Maintain social distancing while in skate change areas. We ask that you wait outside for the duration of ice time.
Enter and exit the facility through specified entry and exit doors.
Follow the designated traffic pattern in the facility and maintain social distancing while in the facility.
Skaters will enter the Main Arena thru the visitor players' bench. Skaters will exit the Main Arena thru the home ice door.
Freestyle skaters will enter and exit the Main Arena through the Public Skate door.
Studio Arena users will enter the Studio Arena through the Meeting Room access door and exit into the designated lobby arena when ice time ends. Please carry any belongings and equipment bags from the Meeting Room to Studio Arena until ice time is finished.
Drinking fountains will not be available. Please bring a labeled water bottle or purchase from our vending machines.
These guidelines may change or be added to leading up to the start of or during the session.