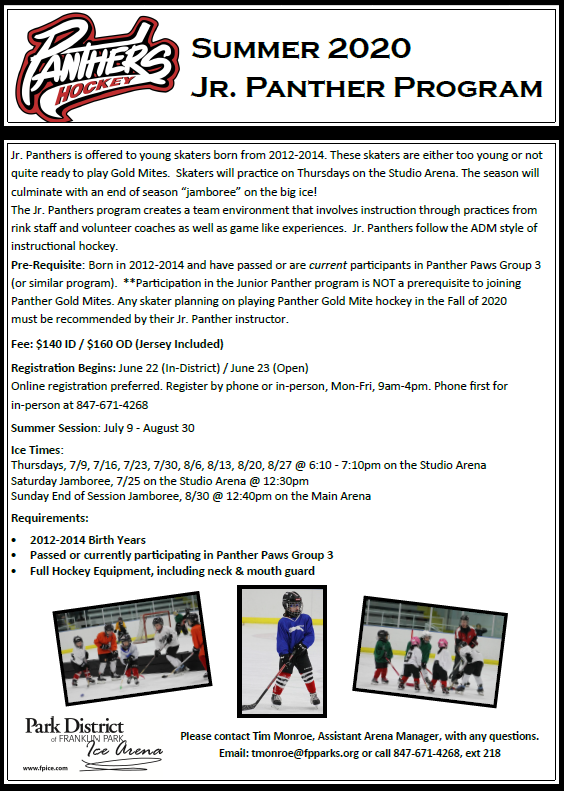 Click the Little Blackhawks link for more info
Fall / Winter Season Information Coming Soon...
TBD: FP residents (who can show proof of passing required skills)
TBD: Jr. Panthers, Little Blackhawks & Panther Paws
TBD: Open registration
*all new Jr. Panthers must show proof of passing Paws Group 2 or currently be registered for Group 3 or higher
Jr. Panthers is offered to young skaters ages 5-8. These skaters are either too young or not developmentally ready to play Gold Mites. JPs practice on the Studio Rink twice a week and compete in "jamborees" on the main arena ice against similar programs from neighboring ice arenas.
Jr. Panthers will occasionally travel to other ice arenas in the Chicagoland area to participate in Jamborees hosted by other programs. They will also have several opportunities to interact with our Panther Gold Mite teams during some of the jamborees. The Jr. Panthers coaching staff works to create a team environment where kids can thrive on the combination of passionate coaching & fun game like experiences.
All players will attend the first ice session followed by a brief parent meeting. From that point forward, players will be permanently assigned to a team for the remainder of the session.