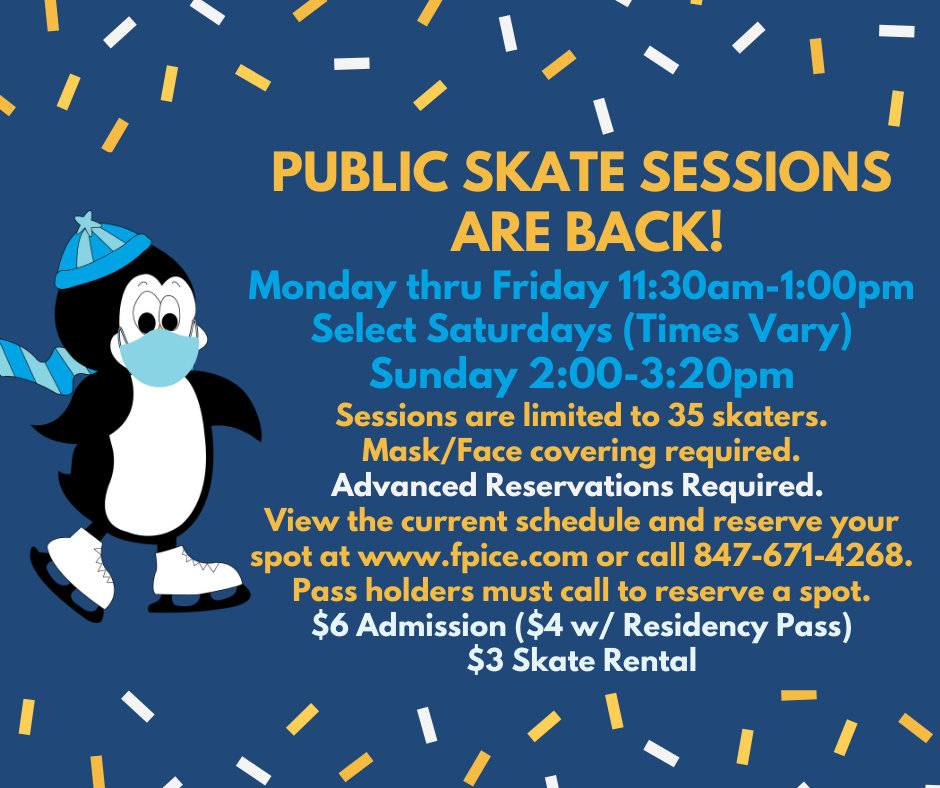 Let's Skate Public Session
Reserve your spots prior to coming to the ice arena by registering online or call our front desk 847-671-4268 to register and check in when you arrive.
We are able to provide space safely for 10 skaters during each session.
Face Masks must be worn when in the facility and on the ice surfaces.
Relaxing - Energizing - Perfect for Meeting New Friends! Lunch hour skates are a relaxing break from work. (Weekend sessions may resume when restrictions are updated.) Reasonably priced, fun, always a great time to enjoy with family and friends. Skate all season long with a season pass, it pays for itself in no time.
$6 ($4 with Resident Pass)
Skate Rental: $3/Pair (Discount Skate Rental Card $30 for 15 Rentals)
(Valid September 8, 2020 thru August 4, 2021)
In-District: $30
Out-of-District: $45
Occasionally our schedule changes. It's always a good idea to call the rink to confirm the schedule at 847-671-4268. A Season Pass at the Franklin Park Ice Arena is a huge bargain! It pays for itself in just 5 visits if you are a Franklin Park resident. Our non-resident pass is also a great value. Passes may be purchased at the Ice Arena or at the Franklin Park Community Center (9560 Franklin Avenue). Proof of residency is required for an In District Residency Pass. Questions? Call the Ice Arena at 847-671-4268.
*Must have a current Resident Pass to receive the in-district rate.